Customer Reviews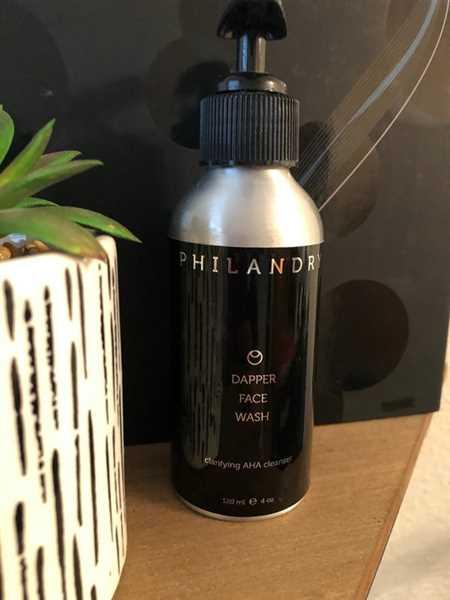 05/23/2020
Love this item!
Amazing product ! I use it twice a day and I've seen some great results !!
Daniel R.
United States
06/14/2020
Excellent Facial Cleanser
Happily surprised with the effective but non-drying nature of this face wash. The texture is rich and creamy but doesn't strip your skin after each use. I tried this product based off the description and the reviews and it lives up to them. Looking forward to trying more of the line's products.
Marc R.
United States
04/19/2020
Dapper Face Wash
Feels light and clean on the skin. The mint smells fantastic. Would like to see this in a scrub
Angel J.
United States
03/31/2020
My morning face wash!
This is my morning face wash! Such a splash of coolness and refreshment for your face. It's so delicate and nice for your skin. It pairs so well with the Universal Shampoo Bar that I use then at night.
Heather S.
United States
PHILANDRY
Dapper Face Wash
Dapper Face Wash is a gentle, sulfate-free and pH-balanced facial cleanser to deep clean the skin and pores without stripping the skin of its natural, protective oil and moisture barrier.
Alpha Hydroxy Acids (AHA) are supplied just the right amount, including Lactic, Malic and Tartaric Acids. The combination promotes exfoliation and cellular turnover, increasing the skin's natural uptake of moisture and improves vibrancy, softness and brightness of the skin.
A fresh blend of mint and menthol make for an invigorating and refreshing cleansing.

120 ml • 4 oz
HOW LONG WILL ONE BOTTLE LAST?
Approximately three months.
Using one pump, twice daily, this bottle will last almost three months, with a shelf-life of more than two years.
PRIMARY ACTIONS: 
Exfoliation and cellular renewal
Acne prevention
Soften skin and improve texture
Even skin tone
Brighten skin
DIRECTIONS FOR USE: 
All it takes is a single pump to cleanse the face and neck. Apply to wet skin and massage in circular motions. Rinse with cool water. Most skin types can tolerate daily use, but if you find you have sensitivity reduce use to two or three times per week and cleanse with the Universal Shampoo Bar the rest of the week.
SUN ALERT: 
Because this product contains Alpha Hydroxy Acids (AHA) it can increase sensitivity to the sun. Use sunscreen and discontinue use during periods of sun exposure (vacationing at the beach?) and for one week following.
NO CRAPPY INGREDIENTS:
Paraben Free
Sulfate Free
Propylene Glycol Free
Phthalate Free
No animal products
Cruelty Free
Gluten Free
Fragrance Free